If a Fire alarm is initiated at your home or business, we'll know exactly where the alarm originated. And we'll know what kind of event has occurred.
That precision can save precious time when firefighters arrive.
Panels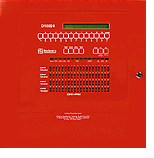 D10024
The D10024 is a new addressable, analog 24 volt fire alarm system designed to meet the needs of today's commercial fire alarm market. Using the latest advanced networking techniques, the D10024 fire panel and accessories meet the needs of any size application from basic single zone systems through to large multi-site systems. The D10024 supports up to 5 polling circuits with 630 addresses.
500 Event Memory Log per System Panel
Programmable Alarm Output Patterns
Built-in Front Panel Programming
Laptop Programming Option
UL Listed for Central Station, Auxiliary, Local and Remote Station Fire applications.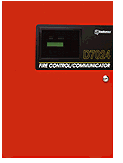 D7024
Digital Fire Alarm Control/ Communicator Transmitter
Supports conventional type detectors
Provided with 4 zones, expandable to 8
Two notification appliance circuits
Internal 24 volt, 4 amp power supply
Supports 4 remote Fire Command Centers
Built-in front panel display with controls
On-board programming capabilities
Remote programmable over dial up phone line
Event Activity Logger
Specialized fire software features
UL listed
The D7024 is a Microprocessor-based Fire Alarm Control/Communicator Panel. This four zone, expandable to eight zone, panel supports up to 20 conventional detectors per zone for a total of 160 detectors. Two Notification Appliance Circuits provide up to 2.5 amps of 24 volt power to operate horns, strobes, bells and other notification Appliances. Additional system power can be added using the D7038 Addressable Notification Power Supply.
The system has restricted access function keys to allow silencing of alarm and trouble conditions, zone bypassing, detector resetting, testing and other fire functions.
Bosch provides complete Fire Alarm System solutions. Bosch panels cover all types of job requirements from small conventional systems to large analog detection networks. Our authorized dealers can help you select a Bosch Fire System to meet all your project and budget needs.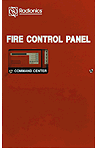 D9124
The D9124 Addressable Fire Alarm Control/Communicator provides detailed point identification through integrated addressable devices. Accurate information from individual points is communicated to the Central Station Monitoring facility.
The detailed reporting capability of the D9124 provides a solution to system service and maintenance problems. The silencing of a "troubled" condition is a common occurrence with fire alarm systems. Using the D9124, your maintenance person won't be able to silence a "trouble" condition and forget about it. The location and time of the "trouble" will be reported to the central station and the required action can be taken. The base D9124 system configuration supports 127 points of detection or supervision. Optional accessory modules expand the system's capability, with up to 2,400 detection devices utilizing up to 246 individual reporting addresses.
Sensors and Sounders
Bosch offers a wide range of 12 and 24 volt sensors, including: ionization, photo-electronic, addressable and analog addressable smoke detector heads and bases; heat detector heads and bases. Bosch also offers a full range of 12 and 24 volt sounders, including motor bells, horns, mini-horns and strobes.